Terrence Howard Discusses the Dramatic Movie "Pride" Based on a True Story
Academy Award nominee Terrence Howard (Hustle & Flow) tackles the role of Jim Ellis, a hard-working schoolteacher who founded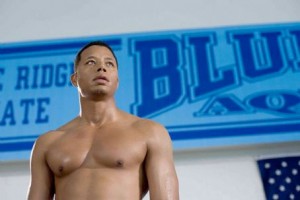 an African-American swim team, in Pride. During the 1970s, Ellis fought against overwhelming odds to put together the first African-American swim team in Philadelphia while fighting the city's bureaucrats, racism, and street thugs who want to lead his swimmers astray.
Behind the Scenes with the Real Jim Ellis: "I knew about his nature, but I didn't know his work, you know, his personal work, until I sat down with him in this little café off of Barren Hill Road in a little town in Philadelphia called Lafayette Hill," said Howard. "And I sat down with him and he asked me… You know, I had just come off a whole lot of the whole Oscar stuff and I was exhausted and tired of smiling and tired of doing all that stuff (laughing). And Jim looked at me and in one moment, he calmed my nature just by asking [a question]. He leaned forward and he was just smiling and he said, 'Why do you want to play me?' And I didn't have an answer and the only thing I could say was because of the question you just asked, because I felt my entire mood shift.
He has the ability of subtle suggestion and everyone who listens to him becomes susceptible to that. I was wondering, I wanted to know where does his power come from. And then after going and watching him coach, I still don't know. Perhaps it's just the fact that he cares. He genuinely cares because even though we took liberties in this script, you know, Jim was a math teacher in the Philadelphia schools at the time. He had a wife. He had a mentally handicapped son. He had 33, 34 students that he had to grade homework and do a curriculum and all of that stuff. But he took his mentally handicapped two-year-old son to that swimming pool every morning at 5am, to that pool again at 3:35 every evening. Along with taking care of his responsibilities with his kid, with his son, he took on the responsibilities of children that had been abandoned by their own parents and the social system.
He was generous with his time and the more I learned about him, the more guilty I felt because I have my three kids and I've always said, 'Well, if I take care of mine, I'm alright.' But our responsibility lies with everyone that is of our kind, and to be of our kind doesn't mean you have to be of our color. Anyone that's made in the image of God has to be taken care of like the image of God, you know? You're supposed to love them, and he's done that for 33 years without any acclaim, without the help of the school board, without the help of the recreational department.
He said he sat down with Governor Rendell a number of times, talked to Mayor Street a number of times, and everyone that came across and not one has helped. He still has a swimming pool that does not have heat. He has to run a hose every morning to heat up that water for his kids. He's still fighting to build a suitable facility, a recreational facility, where they can instruct students. You know, we had only four Black people compete in the swimming in the Olympics in all the years of the Olympics. Why? Because we don't have the facilities to teach them and to expose them to it. The death rate for African Americans with regard to swimming – one out of three African Americans can't swim. So, the sad thing about that [is] if one of their children falls in a swimming pool, the children will drown. Can you imagine being a parent and you can't save your child? You can't jump in there to save your child. So I have a great deal of respect for this man."
Physically Preparing for the Challenge of Playing Jim Ellis: Howard totally dedicated himself to swimming and got in amazing shape for the role. "The question is what kind of training didn't I do. (Laughing) I mean it felt like I was training to be an astronaut or something because I spent anywhere from 3,500 to 4,000 yards a day of swimming. To put that in perspective, it's 25 yards across the pool, so you're talking about 150 to 200 laps a day. Your shoulders are dead tired. Your spirit is tired. You hate water. You're all wrinkled up like you're 95 years old. It was hard. And then on top of that, I still had to work with this guy named Darrell Foster who's Will Smith's trainer. Darrell trained Sugar Ray Leonard so he demanded an hour of lifting and at least 45 minutes of running every day. No matter what time we started running – at 5am and we ran another 3 miles every evening if we got off at 12 o'clock at night. There was no going to bed. 'I don't care if you've got a 5am wake-up call. We have to put the time in.' And if you missed the time today, you had to put the time in tomorrow. So who wants to have to run 10 miles tomorrow? But he would make you do it. He would make you do it, but he would run with you and lift with you."
Keeping It Up After Filming Wrapped: Howard continues to train and remains in great shape. "Yeah, I'm still there. Still there, but it's a team effort, you know? Anyone inside of Will's camp runs with him every day or they're no longer in his camp – anyone that's got an association with him. Like right now, Pierce, his hairdresser, cuts my hair now and Pierce asked Will, 'Is it okay if I go and work with Terrence?' And he said, 'Terrence is part of my camp and you are my connection to him. If I need to reach him, you're there and you're there to keep him running.' (Laughs) So this morning I was exhausted. I had the benefit of being in an art gallery last night and I was talking to… Hugh Hefner was there and some of his Playboy girls and I was having a good time (laughs). I got in at 12 o'clock and got up at 5 o'clock this morning and had my run so I felt like I'm doing my job. I've still got to do my hour of lifting."
Article pulled from movies.about.com