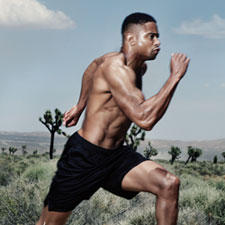 Up-and-coming actor Kevin Phillips trained hard and brought a fighter pilot's mentality to the movie Red Tails.
The earphones in Kevin Phillips' ears during a five-mile run aren't playing hard-hitting rap music, and they're not playing heavy metal, either. In fact, unlike 99 percent of the jogging populace, Phillips isn't even listening to music. "I'm listening to stimulating text," he says. It might be an audio version of Paulo Coelho's famed novel The Alchemist or The Greatest Salesman in the World, by Og Mandino, or even Aspire: Discovering Your Purpose Through the Power of Words, by motivational speaker Kevin Hall —anything that will make his mind work just as hard as his muscles, if not harder. It's a practice Phillips was introduced to by trainer Darrell Foster, whose best-known client is Hollywood star Will Smith, and it's one that he's embraced. "It's your brain processing this knowledge, and it's beautiful when your body is in motion and your brain is trying to dissect this powerful information at the same time," Phillips says. "It's a great challenge, and not everyone can do it."
Phillips needed to train more than just his body for his latest role as fighter pilot Leon "Neon" Edwards in the movie Red Tails — conceived of and produced by the iconic George Lucas, creator of Star Wars and Indiana Jones, and featuring a loaded cast headlined by Emmy-winner Bryan Cranston and Oscar-winner Cuba Gooding Jr. Red Tails, in theaters this month, marks a departure for fanboy favorite Lucas, who steps outside his two famed film franchises for the first time in 20 years to tell the story of the Tuskegee Airmen, a team of African-American pilots fighting during a time when Jim Crow laws extended to the U.S. military. A team that didn't lose a single bomber in any of its World War II missions. A team of "very courageous, respectful and remarkable men," says Phillips, "who were willing to put their lives on the line for their country."
The gravity of the Tuskegee Airmen's experience influenced Phillips. "I wanted to push myself to the extreme for this role," he says. "I can only imagine what these men went through during their training. So for me, it was pushing myself to the max with cardio, weight training and diet. Just being able to have that discipline — like, here's a cheeseburger with fries that looks so good, but I can't have that right now. A lot of people think it's easy to diet, easy to train, and that it's all about just looking good physically. To me, it's a deeper thing than that. Training coincides with a strong mentality and being able to take on any challenges you're faced with."
Looking the Part
Phillips ratcheted up his training dedication for Red Tails for two specific reasons. First, he needed to slim down for the role. A former college basketball player who left school after his sophomore year to pursue acting, Phillips has maintained a decent amount of muscle mass — muscle mass a World War II fighter pilot typically wouldn't have possessed. Second, shooting for the movie was expected to last for six months in Prague,  and anyone engaged in action sequences for that length of time needs a good deal of stamina.
Leading up to filming, Phillips trained six days a week under the guidance of Daryl Byers, a trainer hired by Red Tails' producers to prepare several of the actors for their roles. Intensity was always high in workouts. Supersets were employed in virtually all lifting sessions, and rest periods were kept brief, with 15 to 20 seconds being the norm. Cardio was done six days a week, sometimes at Runyon Canyon Park in Los Angeles, where Byers would have the guys run up the canyon, then back down, take a break and repeat. "That was very intense," Phillips says. "As I was running up that canyon, I was repeating poems to myself and just thinking about the Tuskegee Airmen and the hurdles they faced."
With training came diet, a strict one, consisting primarily of lean protein sources like chicken breasts, lots of egg whites and tilapia; steamed vegetables like broccoli, carrots and cauliflower; and stern guidelines to steer clear of sugars and other empty carbs. Phillips indulged in one cheat day per week to bump his metabolism and satisfy any cravings.
The plan worked. In three weeks, the 6-foot-1½-inch Phillips lost more than 15 pounds, going from a lean 192 to a shredded 175. "When I arrived in Prague at 175, I looked and felt amazing," he says. "If I can do this every day for a month straight, I can accomplish anything. I can go to Prague for six months and be thrown into the mix and embody what the Tuskegee Airmen went through and try to take that in as an artist and portray that creatively. Physically training as an actor, you have to be disciplined and you have to be committed. I'm committed to training just like I'm committed to my craft."
Discipline is acquired in many ways, all of which Phillips seems to be drawing on — from saying no to the junk food he's tempted to eat to reciting poetry in his head to mask the pain during sprints up the canyon to listening to inspirational texts during long runs. It's this discipline that Kevin Phillips believes will help him achieve increasing success in years to come. "The sky's the limit," he says. "This is just the beginning of what people will see from me."
The Kevin Phillips File
Born: December 11, 1981
Debut TV Credit: Law & Order: Criminal Intent, "Mad Hops" episode (2004)
Debut Film Credit: The Cookout (2004)
Other Film Credits: Pride (2007), Notorious (2009), Sinners and Saints (2010)
Training for Stardom
Actor Kevin Phillips has worked with three personal trainers thus far in his career: Darrell Foster, whom he trains with off and on when Foster isn't busy training Will Smith; Daryl Byers, who trained Phillips and other cast members for their roles in Red Tails; and Kenny Johnson, his current full-time trainer. Below is a sample week of Phillips' training regimen, designed by Johnson.
DAY 1: CIRCUIT TRAINING DAY
Round 1 (20 minutes)
1. Bench Press
2. Dumbbell Row
3. Kettlebell Clean to Front Squat
4. Kettlebell Swing
5. 45-Pound Plate Twist
Round 2 (20 minutes)
1. Weighted Dip
2. Weighted Chin-Up
3. Dumbbell Lung
4. Weighted V-Up
For each exercise, perform six to eight reps with a weight that can be handled for 10 to 12 reps. Perform exercises consecutively, taking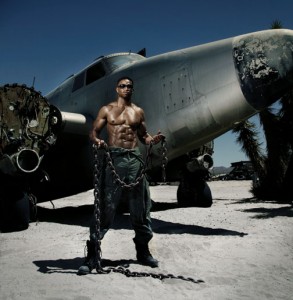 minimal rest between each. Complete the Round 1 circuit as many times as possible in 20 minutes, then do the same for Round 2. Each time you do this workout, try to complete more circuits than the previous time.
DAY 2: CARDIO DAY
Perform five one-mile runs at the fastest pace possible. Rest three to five minutes between each run or go by feel.
DAY 3: METABOLIC DAY
Part 1
Man Maker*/Mountain Climber Supersets
Go back and forth between man makers and mountain climbers for five sets each, resting as little as possible throughout. On man makers, descend from five to one reps — five reps on the first set down to one rep on the fifth set. On mountain climbers, do 25 reps per leg on all five sets.
*To perform man makers, stand holding a pair of light dumbbells. Squat down, put the dumbbells on the floor (hands still holding them) and kick your feet back behind you to assume a push-up position (just like when you're doing burpees). Do one push-up, then do a one-arm/renegade row with your right hand, do another push-up, then row with your left arm. Return to the standing position, immediately clean the dumbbells up to shoulder level, press the weights overhead and lower them back down to the start position. That's one rep.
Part 2
Stationary-Bike Tabata Intervals
Pedal as fast as possible at a high resistance setting for 20 seconds, then rest by pedaling slowly for 10 seconds. Repeat this eight times through, which will take you four minutes total.
DAY 4: REST
DAY 5: METABOLIC DAY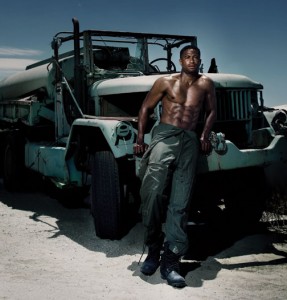 "Prize Fight" Circuit
1. Push Press
2. Jump Tuck
3. Medicine-Ball Slam
Perform all exercises consecutively for 30 seconds each, two times through, for a total of three minutes. Rest for one minute, then run on a treadmill for three minutes straight at 7 miles per hour or more.
Johnson has Phillips perform the Prize Fight Circuit and treadmill run for eight rounds the first week, 10 rounds the second week and 12 rounds the third week before dialing it down for a week or two, then changing the exercises and repeating the progression.
DAY 6: CARDIO CHALLENGE
Run five miles in fewer than 42 minutes and/or try to beat your personal best each time.
DAY 7: REST
Article pulled from muscleandperformance.com