Darrell Foster's take on the needs of his high level clients.
Personal trainers: Getting Celebrities in Shape FROM the concert stage to the big screen, some celebrities get rave reviews for the figures they flaunt in movies and on the red carpet. But they aren't born with washboard abs, Tina Turner legs and sculptured.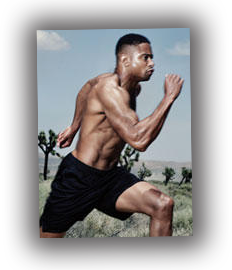 Kevin Phillips discusses his training technique he learned from Darrell Foster.
Up-and-coming actor Kevin Phillips trained hard and brought a fighter pilot's mentality to the movie Red Tails. The earphones in Kevin Phillips' ears during a five-mile run aren't playing hard-hitting rap music, and they're not playing heavy metal, either.

Making "Ali:" Will Smith Inhabits the Role
The director yelled, "cut", the cameras stopped and the crew was packing up for the day. But the action continued in the shantytown close to the airport in Maputo, Mozambique, where the new biopic "Ali" was filming earlier this year.

More of Darrell Foster's work with Terrence Howard for his role as swimmer Jim Ellis in "Pride".
Academy Award nominee Terrence Howard (Hustle & Flow) tackles the role of Jim Ellis, a hard-working schoolteacher who founded an African-American swim team, in Pride.